28th February 2022
Annual General Meeting & Lucille McKenna OAM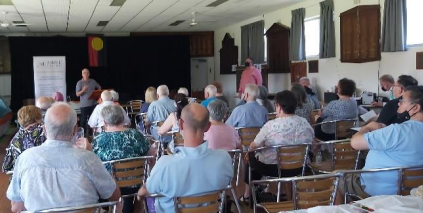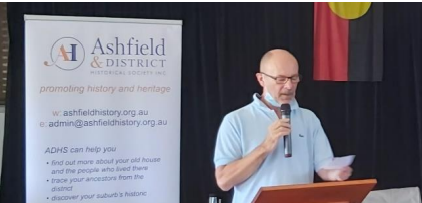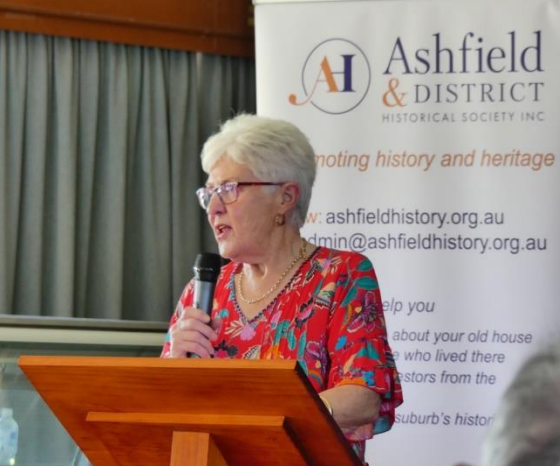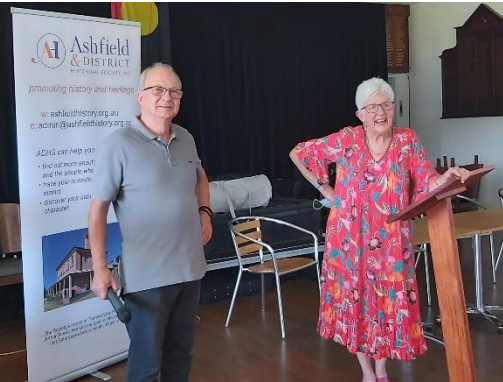 The Society's Annual General Meeting
was held on Sunday 20 February 2022
at the Pratten Park Community Sports &
Bowling Club
The distinguished guest speaker was Lucille
McKenna OAM, who recently retired as an
Inner West Councillor and was the last Mayor
of Ashfield Municipal Council, prior to the
amalgamation which resulted in the Inner
West Council.
Colin Webb writes on the events of the
afternoon:
The Society's President Mark Sabolch took the
chair at the start of the 49th AGM of the Ashfield
and District Historical Society and welcomed
the 40+ people in attendance. Mark
acknowledged the Wangal and Gadigal people,
the custodians of the country on which the
meeting was held.
Mark presented the President's Report for 2021.
He outlined some of the Society's activities
and achievements in what has been an
unusual year.
Lucille was a councillor of the former Ashfield
Municipal Council, having been first elected in 2004.
She then went on to be elected as the
first female Mayor of the Council in March 2013.
Lucille was also the last Mayor of Ashfield.
Her presentation about her experiences on the
Council was lively, interesting and at times,
amusing.
The presentation was followed by a wonderful
afternoon tea with the usual great spread of
food and enjoyable conversation.
20 March 2022
Victoria Street Walk Part II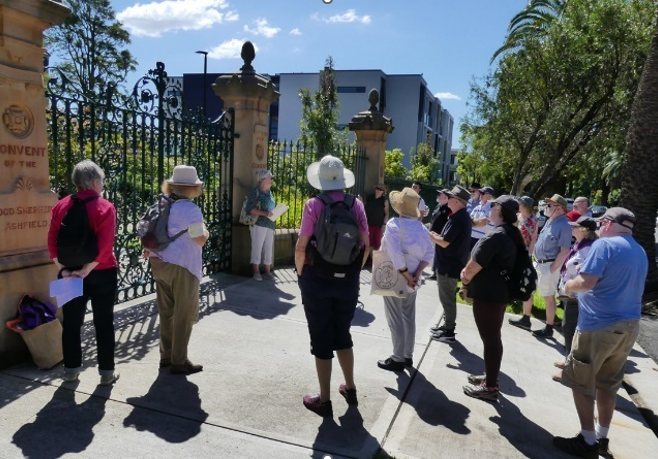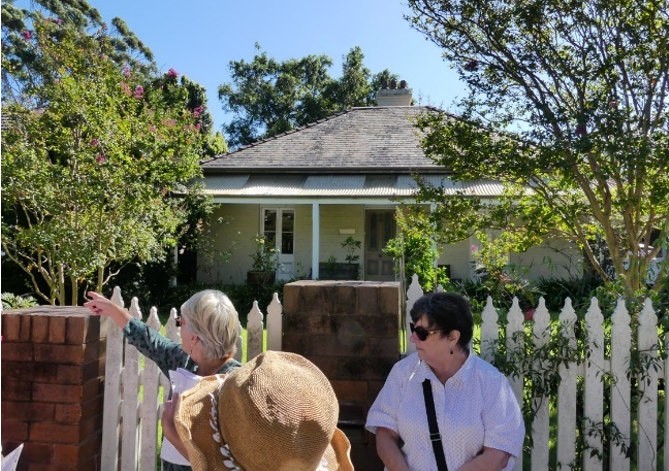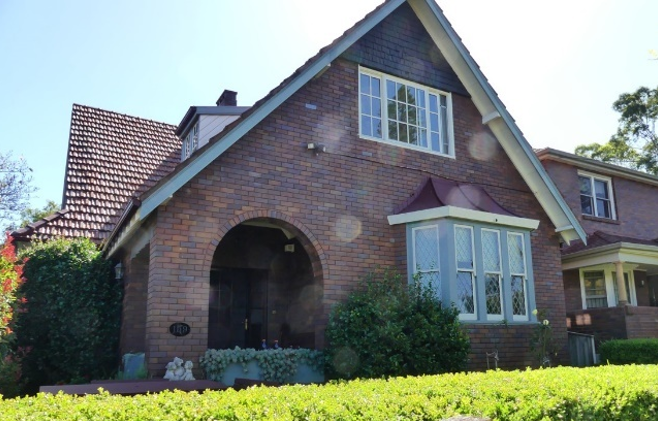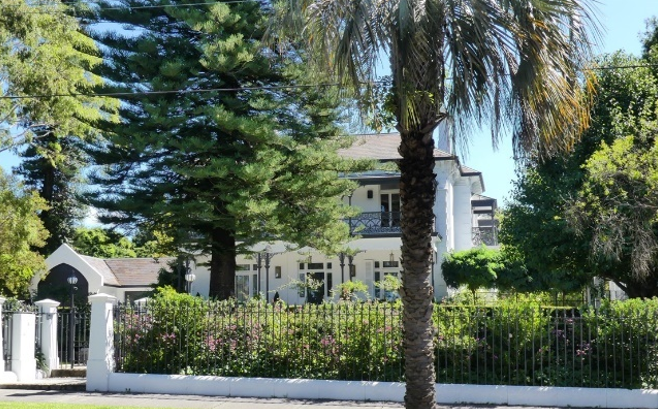 After weeks of almost continuous inclement weather, the day we had planned for the Victoria Street ll turned out to be ideal. 28 people met outside Glentworth and then embarked on what turned out to be a long, full and interesting walk.
The walk started at Seaview Street and then proceeded down Victoria Street to Yeo Park and the Heritage listed Baby Health Centre, just over 650 metres. We had a number f speakers on the day who were able to draw the groups attention to the history and heritage of various things. Anne O'Connor spoke on the history of some of the houses, Lois Gray had a detailed knowledge of the people who had served in World War 1, Bernadette Williamson provided additional background information, Jan and Paul Williamson presented a detailed picture of the Baby Health Centre and how baby Health Centres had evolved and Colin Webb pointed out some of the architectural features and the leadlight design in some of the house.
Having so many presenters on the day created a rich mosaic of history and heritage. We had the good fortune to be unexpectedly invited a beautiful inter-war Tudor house to look at some of the rooms that had been restored to their original condition.
The afternoon was pleasantly rounded off with afternoon tea on the verandah at the beautifully restored home of Cheryl Borsac.
21st May 2022
Exploring the Italianate Style : Mark Sabolch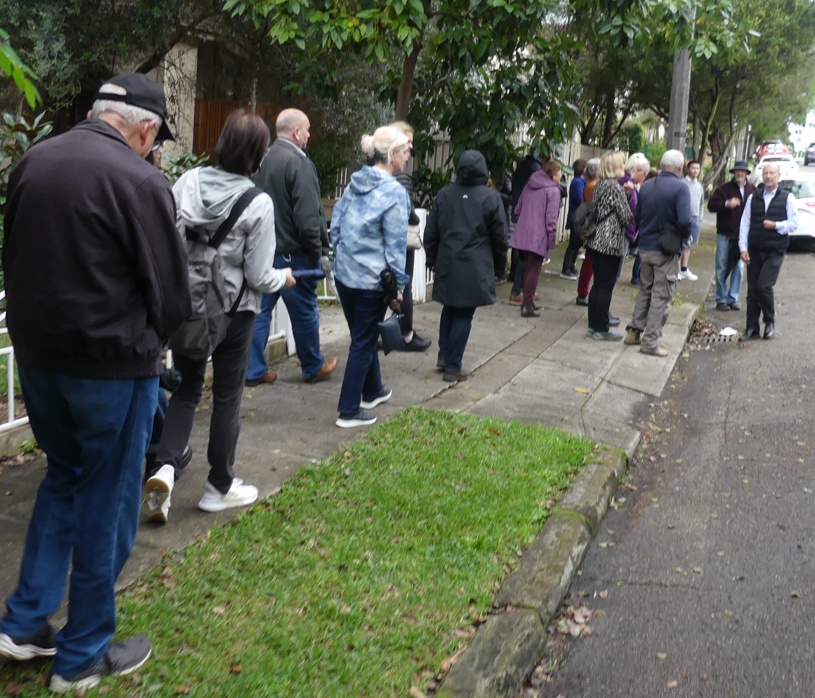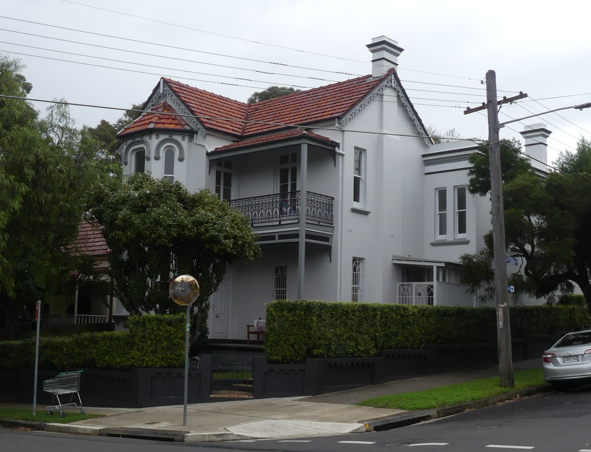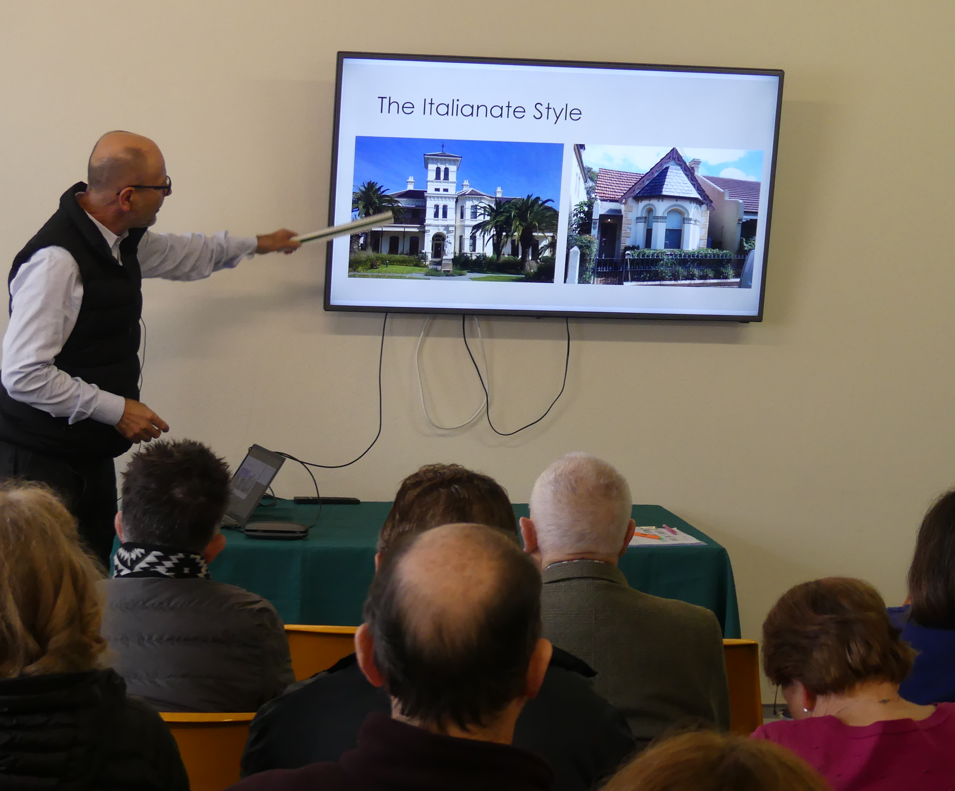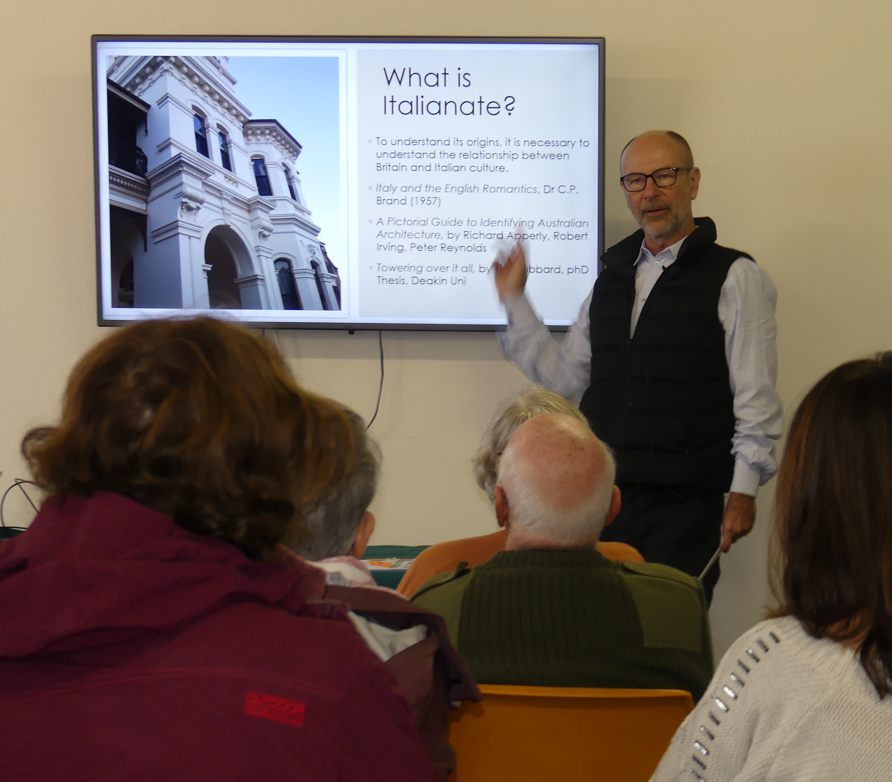 A short walk & then a talk by Mark Sabolch was held on 21 May 2022 at St Andrews Church, Summer Hill
The weather was not ideal, but some 20 people gathered before the walk. This was amid a wedding! Mark showed the walkers, several residences in in Henson Street, pointing out features of the "Italianate" style.
More than 40 were present for the illustrated talk later.
The 'picturesque' movement in Britain (commencing 1782) had a big influence in the development of the style. However two critical examples of the style made a big impression on those that followed in Sydney, including Queen Victoria's Osborne House (1846) and the State of Victoria's Government House (1876) in Melbourne.
Mark's talk began with illustrations of English examples, as he pointed out the features which collectively represented the style, and proceeded to local and interstate examples, some preserved, others since lost.
Several of the audience contributed opinion and information, and some lively discussion ensued, before the meeting concluded in the habitual afternoon-tea.
A well-prepared and presented informative and enjoyable afternoon!
Sunday 25th June 2022
Tour of the Concord Heritage Museum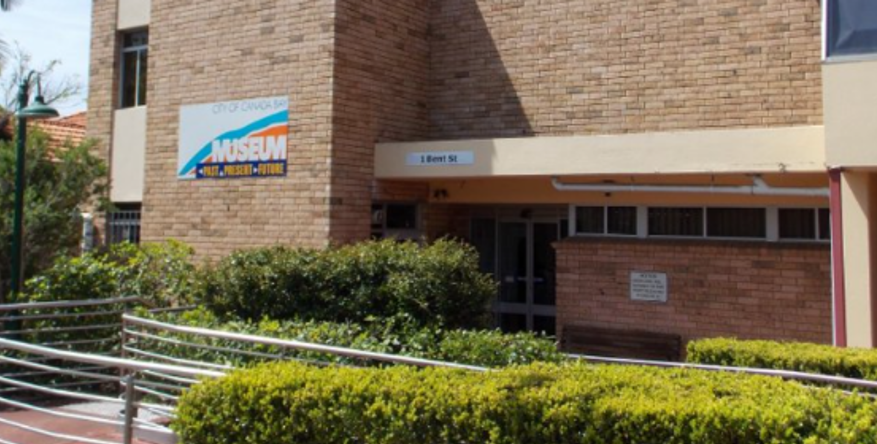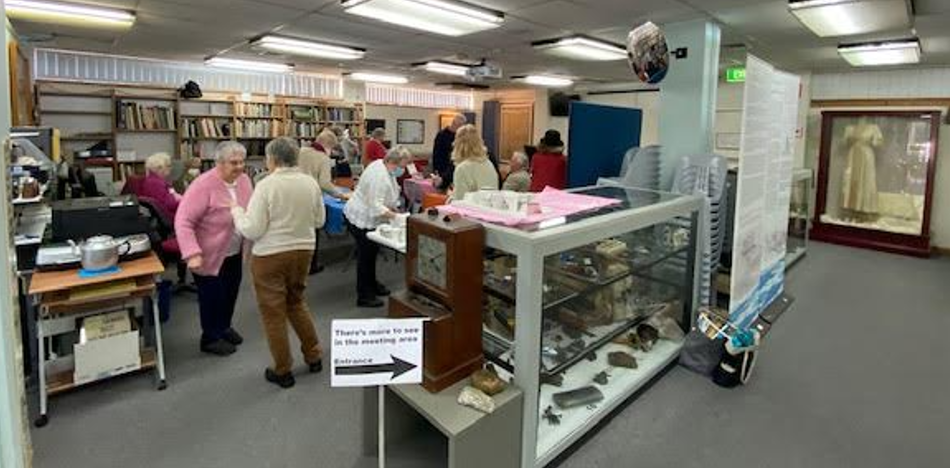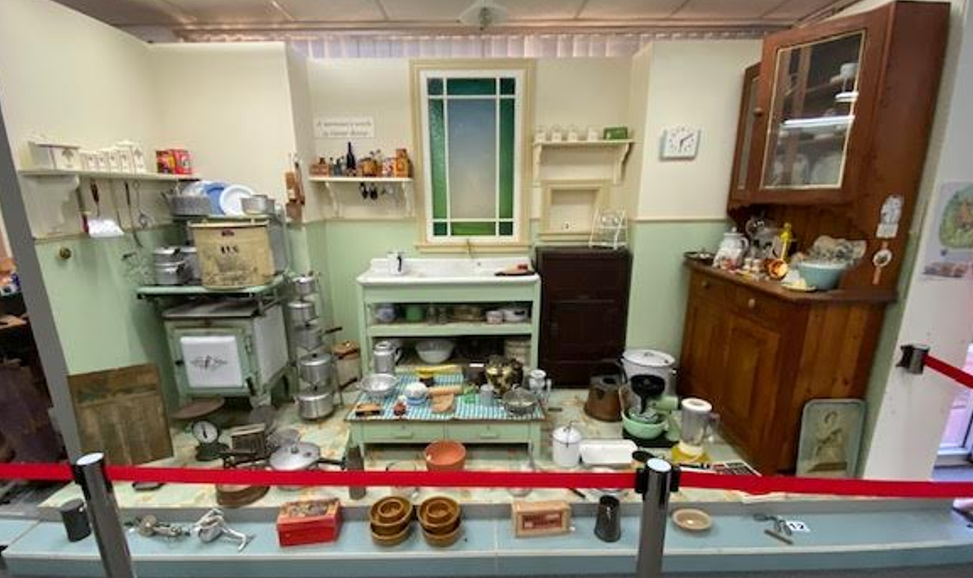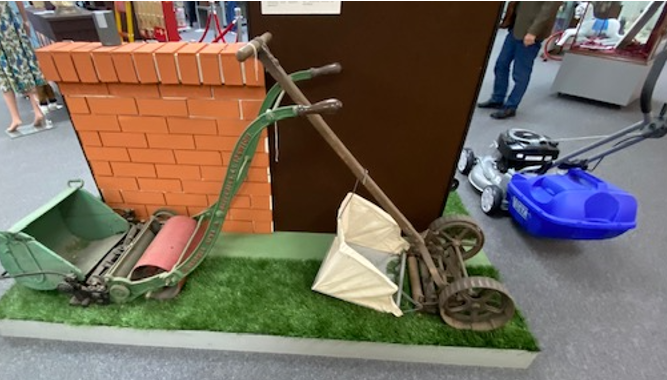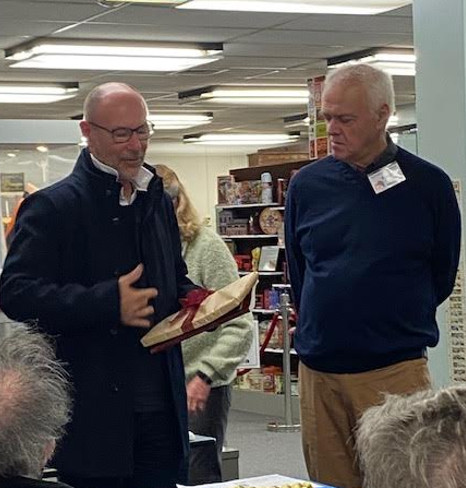 On Sunday 25 June, ADHS members were treated to a special viewing of the City of Canada Bay Museum, run by the City of Canada Bay Heritage Society.
Twenty-three of us enjoyed the hospitality, enthusiasm and knowledge of the Society's volunteers who engaged with us and answered questions as we moved around the displays.
Concord has so much interesting history. Canada Bay and Exile Bay are local place names that derive from the French-Canadian exiles who were incarcerated there under great hardship from 1792 – yet another sad display of the brutality of British colonialism.
Thomas and Eadith Walker gave Concord the enduring legacy of the expansive Thomas Walker estate with its open spaces and the beautiful buildings Yaralla and Rivendell, now administered by NSW Department of Health. The Museum however, focuses on the intimate and the social, to illuminate the larger stories.
Andrew West, of the City of Canada Bay Heritage Society's Committee, described it as a 'Museum of Curiosities', explaining that the exhibits and objects are intended to stimulate the curiosity, memories and questions of visitors, and thus expand their interest, understanding and appreciation of history and heritage.
Some of the objects, such as a soap saver and a butter knife, were familiar to our members. These may well be mysteries to many of the schoolchildren who visit the museum. No doubt all of us use a butter knife every day, do we not?!
Other objects were less familiar – a glove stretcher, a stocking hanger, a specialised teacup for a moustachioed man, and a ceramic elephant designed to hold cigarettes were initially puzzling to a good number of us.
One of Andrew's favourite objects is a delicate cup and saucer. The broken cup had long ago been carefully and skilfully repaired. Sitting on a high shelf of a glass cabinet it would have appeared intact to visitors. So, although it was no longer usable as a teacup, it retained its role of assuring visitors that the home was of acceptable standing and culture.
The Arnott's biscuit factory was a significant feature in Homebush and the Museum has a wonderful display of their biscuit tins.
Another significant manufacturer was Victa and the museum has an original Victa mower on display.
A particularly poignant item for me is a collection of wire pegs, made in the Great Depression by men laid off from a local wire factory. These now-unemployed men were permitted to take the strips of wire so that they could make clothes pegs they might be able to sell for a little income. In such humble objects the desperation and looming poverty of those men and their families is almost palpable.
The Museum also has interesting displays about Thomas and Eadith Walker and their estate and legacy.
It was an unhurried and affable event, finishing with a sociable afternoon tea, and it was very good to meet members of our fellow heritage society.
Thank you to the City of Canada Bay Heritage Society Committee for their generosity in opening the museum for us on a Sunday.
We hope our two societies can work together in our shared areas of interest in the future.
Thursday 18 August 2022
Tour of the Caroline Simpson Library and Research Centre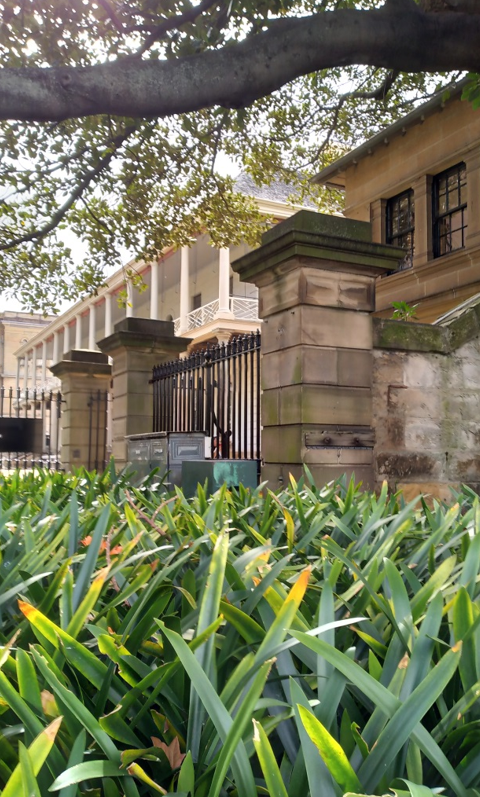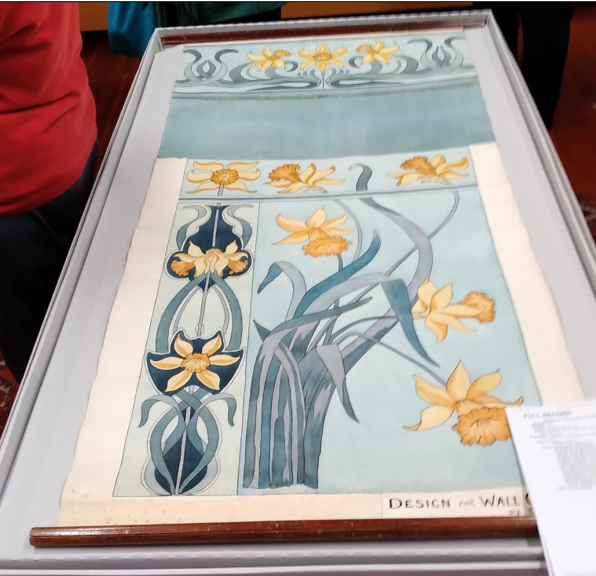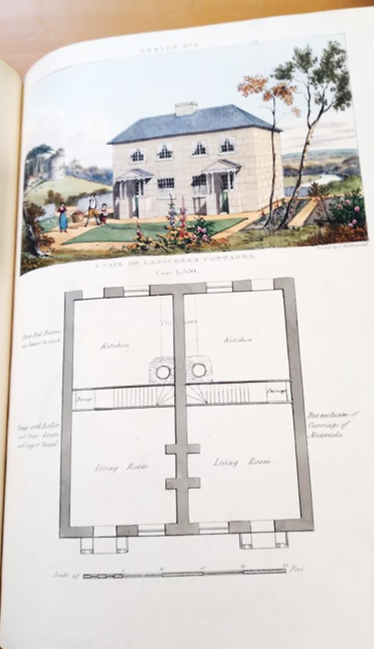 On display and very carefully laid out, was a panel of wallpaper or 'wall covering'- it was as brilliant as the day it was drawn and coloured. The piece, executed in the Art Nouveau style, consisted of highly stylised daffodils. It was a sample of work by Ethel Atkinson, a former resident of Ashfield and it was absolutely stunning.
For the ADHS visit, librarians selected suburb specific items which included photograph albums featuring well known Ashfield and Summer Hill historic houses Glentworth, Coniston, Holwood and others.
Amongst the ephemera on display, there were invoices and letters related to a Summer Hill builder, A. R. Findlay (known as Roy Findlay). For me one the most fascinating and oldest items was a book of Architectural Plans with 'patterns' of different dwellings dated 1825. I also imagined the owner of such a book being quite the colonial entrepreneur – perhaps a builder, perhaps the colonial architect or even a Governor's wife. It is said that Mrs Macquarie had an abiding interest in design and was influential in some early colonial builds – no doubt she had a similar book or two. There were patterns for the humble farm cottage to a rather grand town house, complete with a floor plan and picture of the finished build. This book truly captured my historical imaginings – in carefully leafing through, I could not help but think about the sturdy double fronted houses of colonial Parramatta, in particular Samuel Marsden's.
Another gem on display was a design drawing for an architectural presentation, so beautifully and precisely drawn and coloured by Marion Mahony Griffin. There were retail catalogues from David Jones and Anthony Hordern which were essential when the tyranny of distance shaped many lives and when mail order was a necessity. The Caroline Simpson Library and Research Collection is so well worth a visit – although there was a short time allocated to ADHS, it was a wonderful 'taster' for the gems hidden here. Many thanks to our hosts from Sydney Living Museums, Research Librarian Dr Matthew Stephens and Curator Michael Lech for showing us the Library & Collection. The event was quite an experience and very special.
The website: Caroline Simpson Library & Research Collection | Sydney Living Museums has information on how to access the Library & Research Collection, including on-line access to the Library's Catalogue. Ronda Gaffey Images: Ronda Gaffey & Heather Warton