ASHFIELD AND DISTRICT HISTORICAL SOCIETY INC
Presented at the Annual General Meeting, 21 February 2021
Despite the impacts imposed by the Covid-19 Coronavirus, the Ashfield & District Historical Society has had an extraordinary year.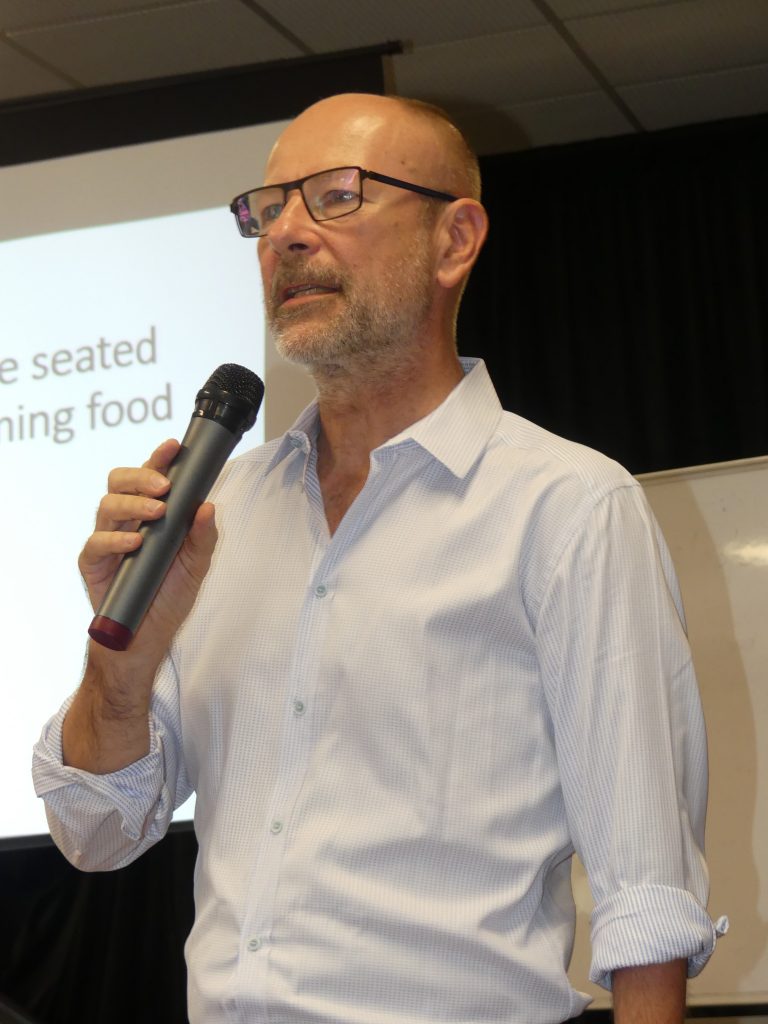 We had to tread carefully to work within the Health Department guidelines, and unfortunately, we had to cancel many events to protect members from possible transmission of the virus. Nevertheless, a lot of work was achieved during the year, as much of it was completed in the safety of our own homes.
Two sub-committees worked tirelessly on the publications released by the Society this year.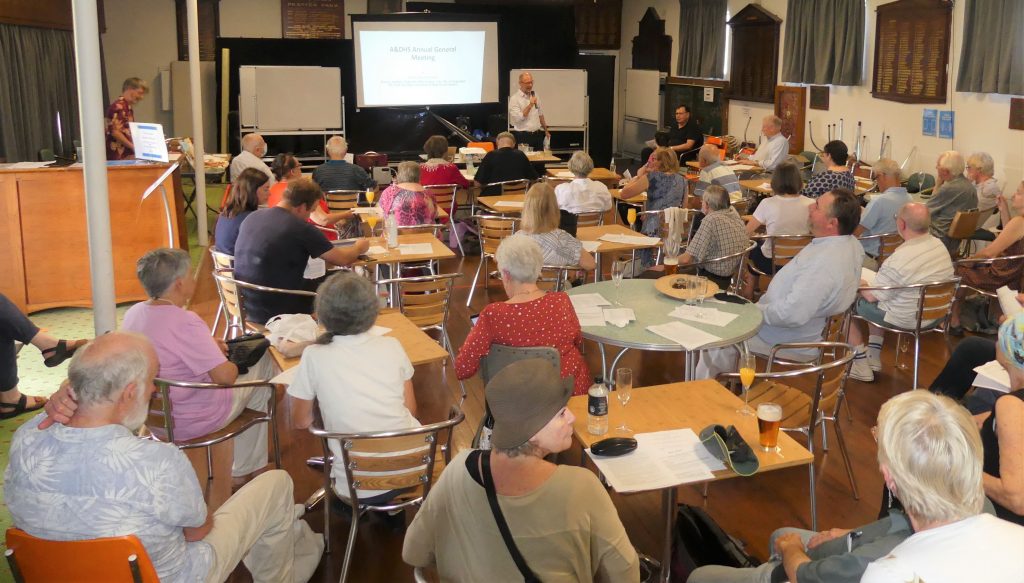 One of these, headed by Ann O'Connell, worked on the massive history of the Ashfield Pool. Thanks go to Lois who compiled a short history of the opening ceremony of the pool in January 1963. Our publication Taking the Plunge was released for distribution in time for the new pool's opening on 17 October 2020, although the festivities were constrained by Covid.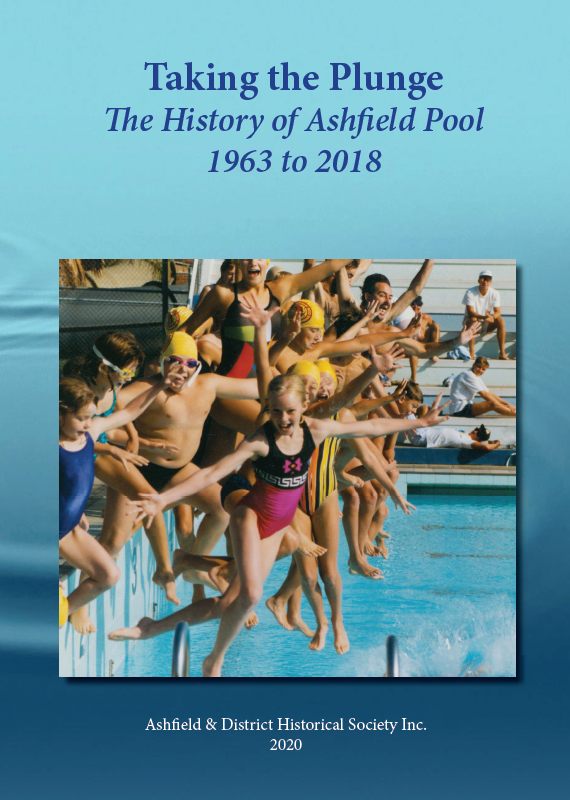 Another sub-committee headed by Carolyn Carter and Bernadette Williamson worked on completing and polishing the database of names of people who served in the first world war. This database was started by ADHS members Kerry Ann O'Reilly and Peter Byron. Stories were prepared by Ann O'Connell and a range of others that I acknowledge here: John Telford, Margaret Szalay, Leigh Etherden, John Wyndham and Georgie Winsor. Our publication Preserving Their Names was launched in November 2020, in conjunction with Remembrance Day, and we were entertained with a marvellous speech by Brad Manera, Senior Historian and Curator at the NSW Anzac Memorial.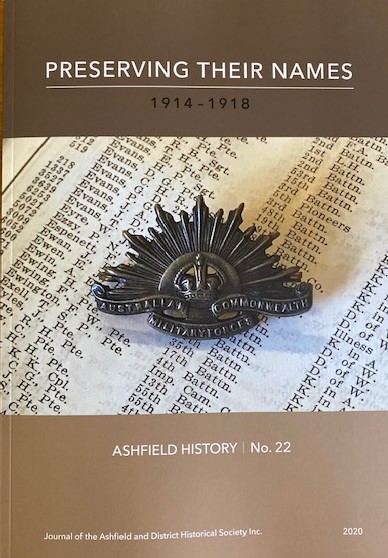 Preserving Their Names.
I want to acknowledge the hard work undertaken by all our Committee members. Our Vice President and Heritage Officer, David Rollinson continued his watch on new developments listed in the Ashfield part of the Inner West Council area. A new approach had to be taken because the Society is no longer sent notifications directly by Council. Today we log on to Council's website and actively seek out the information ourselves and decide if the development warrants a comment from the Society.
I want to acknowledge the work undertaken by our Secretary, Murray Cleaver. Keeping a record of our meetings and having the Minutes and Agenda ready for the next meeting is no small task, and we thank Murray for doing this with great efficiency.
You may have noticed our revamped newsletter prepared by Heather Warton. We have decided to produce a quarterly newsletter, which we can post if requested, with smaller email updates in between.
Our Society's new website has now operated its first full year, and we are fortunate that we have such an active and dedicated person in Colin Webb who has continued to tweak the website and post updates regularly. Through Colin's efforts our website has become a valuable up-to-date communication medium.
The IT system used by the Society in the rooms at Thirning Villa has been managed by Philip Lingard. I want to acknowledge Phil's perseverance in liaising with the NBN and our internet carrier to have the cabling upgraded. It means at last our computer access in the rooms is faster and future- proofed.
Our Events Coordinator has been Lois Gray, supported by Jan Williams. Together they have prepared a full program of meetings, talks and guided walks for the coming year, of course provided that the Covid health restrictions allow us to proceed. This is an area we need to remain flexible.
We are delighted that we have a Rooms and Collections Officer in our Committee, and this role is ably executed by Clare Herscovitch. Clare has been supported by Jenny Broomhead, and together they have been busy making digital scans of the Society's enormous photograph collection.
Other members of the Committee have also contributed to the Society's wellbeing include Bernadette Williamson, Carolyn Carter, David Morgan, Paul Williams, and Alex Lofts.
Bernadette instigated a regular bookstall down at the new markets at the Summer Hill Flour Mills. This has proven to be not only a great way for ADHS to connect with residents, but also a great way to develop an income from selling our back-catalogue of publications.
I also want to acknowledge the Society's Honorary Architectural Historian Robert Irving. Robert continues to provide advice and support to the Society, including most recently advice on the development of the Italianate architectural style in the Inner West.
On 12 July 2020 the Committee met in a safe environment to workshop ideas for strategic actions to be taken over the next couple of years. I'm pleased to say that a Strategic Plan has been developed, and a draft has been sitting on the Society website for comment. There are 23 strategic actions presented in this document all aimed at strengthening ADHS's connections with the local community. You don't have to be a member of the Committee to get involved in any of the actions of the Society. If there are any actions in the plan that you would like to get involved in, please let us know.
I would also like to acknowledge one of our members who continues to be very active in researching elements of local history, and that is Life Member, Chris Pratten. His continued interest in local history research continues to be an inspiration to many of us. We thank him for his passion, energy and eloquent style.
Despite the hardships imposed by Covid, I must say that 2020 was an important year for bringing the Committee together, and we are probably a closer and more supportive group than ever before.
I'm proud to have been President of the Ashfield and District Historical Society for another year, its 48th year of existence. Together we are marching strongly towards its 50th birthday. Mark Sabolch President 2020