The Society holds a huge number of resources that can assist researchers with their own projects.
Our resources include:
Subdivision Plans
A collection of over 800 local subdivision plans, all those held by Mitchell Library (microfiche). These are particularly useful in determining when a block of land was subdivided. More details …
Water Board Plans
The Society holds copies of Water Board plans of the (former) Ashfield Municipality as it was in 1890-93 (Aperture cards and hard copies). More details …
Ashfield Council Rate Books, 1872-1890 (microfilm)
The Society holds copies of the Rate Books of Ashfield Council for North Ward from 1872 to 1890, for South Ward from 1872 to 1885, and for East Ward from its inception in 1880 until 1890. More details …
Ashfield Council Minutes 1872-1920 (microfilm)
Ashfield Council Valuation Books, 1908-10, 1920, 1922-26 (microfiche)
Ashfield Council Building Applications 1909-1980 (microfiche)
Sands' Sydney Directories (microfiche)
Sands Directories were published by the John Sands stationery firm from 1858 until 1933 and appeared every year, except 1860, 1862, 1872, 1878 and 1881. More details …
Wise's Post Office Directory of Ashfield 1936 (hard copy)
The NSW Post Office (and Commercial) Directories, which are often referred to as Wise's Directories started in the mid-1880s and continued until 1950, covering more than a decade after Sands stopped publishing. We have a hard copy of the 1936 Directory of Ashfield. More details …
NSW Post Office Directory for 1904 (CD-Rom)
This CD-ROM is a searchable CD produced by Archive CD Books Australia Pty Ltd. To use this resource, first insert the CD-ROM into the computer and it will automatically bring up the program. Click on 'Contents' and select which directory you wish to search. There is a wealth of information contained on this CD-ROM for the researcher. In the Trades Directory there are many advertisements for companies and individual businesses.
The NSW Telephone Exchange List of Subscribers for 1913 (CD-Rom)
The original telephone directory was issued in May 1913 and lists over 30,000 names of subscribers in Sydney and country NSW in over 600 pages. Occupations of subscribers are often given together with the address and the exchange. The preliminary pages include other information giving insight into communications and society more than 100 years ago.
The Advertiser, 1888-1909, Ashfield newspaper (microfilm).
This newspaper circulated in Ashfield, Summer Hill, Croydon, Canterbury, Burwood, Concord, Enfield, Strathfield, Dobroyde, Five Dock, Petersham, Leichhardt, Dulwich Hill and Marrickville. More details …
The Ashfield Argus, 1924-1960 (incomplete, microfilm)
The Society holds copies of all surviving issues of The Argus, founded by A A James. and published from 1924 until the 1960s. Two reels of film are available, covering the period 1924-1942, in which there are many missing editions, and 1958-1963, which is a more complete set. More details …
Researchers wishing to consult a hard copy for the purposes of reproducing a photograph or advertisement may be able to do so by negotiation with a Rooms' research officer.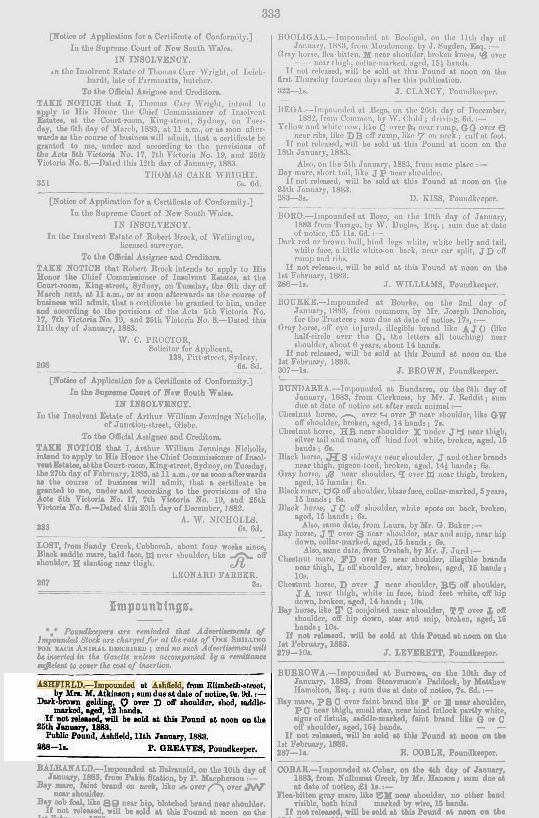 Newspaper Cuttings (1960s-1990s)
Miscellaneous cuttings relating to Ashfield and district.
NSW Register of Births, Deaths & Marriages (CD-Rom)
If you're looking to trace your family history in New South Wales, the Registry's records are the best place to start. More details …
Soc. of Australian Genealogists Cemetery Transcriptions for Rookwood, Macquarie Park, Waverley & South Head (CD- Rom)
Gravestone Inscriptions (Hard Copies)
St John's Cemetery, Ashfield
St David's Ramsay Family Cemetery
St Paul's Cemetery, Canterbury (many Ashfield residents are buried here)
1901 Commonwealth Census (Microfiche)
Listing is by street address (old numbers are used), and the entry gives the head of the household, the number of persons present, whether male or female, and the number of Chinese and Aborigines. Some house names are also listed.
1903 Commonwealth Electoral Roll (Hard Copy)
This is the first Commonwealth roll, and covers Ashfield, Summer Hill, Dobroyde and Croydon. Females are included on an electoral roll for the first time. Listed alphabetically, the Roll gives name, occupation and address. Note that street numbers given in this Roll are different from those of today.
Electoral Roll for the Seat of Evans 1954 (Hard Copy)
This is a bound copy of the 1954 electoral roll for the seat of Evans (which included the Municipality of Ashfield and surrounding suburbs). The Roll gives alphabetical listings of residents and their addresses.
Ashfield Council Minutes (Microfiche)
The Society holds copies of the Minutes of Ashfield Council from its first meeting in 1872 up until the end of 1922. Early minutes contain little detail about individual buildings, but some useful information can be gleaned from correspondence reports and from such things as local government election results and early name changes of various streets. (Many of these are also listed in the 1993 Ashfield Heritage Study).
Miscellaneous Maps and Plans
The Society holds hard copies of scores of maps and plans, dating from c. 1840 to the twentieth century. These have not yet been catalogued, but our research officers may be able to help. More details …
Ashfield Council Valuation Books (Microfiche)
We hold copies of Ashfield Council Valuation Books on fiche for the years 1908-10, 1920, 1922-26.
Photographs
The Society has a collection of thousands of photographs. Most of these date from the early 1970s to the present day, but our collection of earlier photographs is continually being enlarged with donations from members and the general public. More details …
Heritage Studies and Conservation Plans
Of particular local value are the following:
Ashfield Heritage Study (1993),

Vol 1: general history; proposed conservation areas; architectural and landscape essays; origins of street names
Vol 2: separate inventory sheets for 300 existing and proposed heritage items

Haberfield Main Street Study (1994)
Haberfield Heritage Study (c.1987)
Summer Hill Post Office Conservation Plan
Ashfield Police Station Conservation Plan
Thirning Villa draft Conservation Plan
Other Information on Ashfield and District
We hold a great deal of other printed material relating specifically to Ashfield, Summer Hill, Haberfield and Croydon. More details …
Institutions and Places
We have a huge collection of information on umerous institutions and places in Ashfield. More details …
Schools
We have information on the following schools:
Summer Hill Public School
Normanhurst School Ashfield (including photos)
PLC Croydon
Trinity Grammar School Summer Hill
Dobroyde School, 1862-76
Bethlehem College Ashfield
De La Salle College Ashfield (Elmswood)
Ashfield Public School
Ashfield Boys College/Grammar School
a number of small private schools
Churches
We have histories of the following churches:
Ashfield Presbyterian Church (1936 and 1976)
Ashfield Methodist (now Uniting) Church (1936)
St John's Church of England Ashfield (1940 and 1991)
St Andrew's Church of England, Summer Hill (1981 )
St Vincent's Catholic Church Ashfield (1944 and 1994)
St David's, Haberfield (1968 and 1969)
St Oswald's, Haberfield (1977)
Holy Innocents, Croydon (1974)
St Paul's, Canterbury (1960)
St Christophorus (formerly Croydon Congregational) (1973)
St James, Croydon
St Patrick's Catholic Church, Summer Hill
Family Histories
While the dividing line between local history and family history is usually blurred, we have grouped a number of papers relating to specific individuals or families in one section. More details …