A short history of North Summer Hill
The Sloane Street and Kensington Road area have considerable character and history. Here is how it developed from colonial times.
Henry Kable was a convict with the First Fleet, but through his industrious character he received not one but three grants of land commencing in 1794. Ultimately his 75 acres covered the north Summer Hill area. He kept sheep on his land, and a news article in the Sydney Gazette, in 1804, speculated on "native dogs" attacking his ewes!
Kable profited from a business partnership with another ex-convict, the boat builder, James Underwood. Together they transported coal from Newcastle, wheat from the Hawkesbury and seal skins from the south coast. By 1804 their business was extraordinarily successful, they employed more than 60 men.
James Underwood acquired Kable's land in 1821 and continued to grow his business, importing liquor to the colony, while Kable moved to Windsor.
James Underwood's business affairs were complex, and when he died in England in 1844, it took an act of NSW Parliament, the Underwood's Estate Act 1873, to free up the properties.
So, it wasn't until 1878 that James Underwood's subdivided property went to public auction, and by this time not only had the Sydney to Parramatta railway been built through the land (opened in 1855), but the beneficiaries of his estate lobbied the Minister for Public Works, John Lackey, for the establishment of a new railway station in the middle of the development!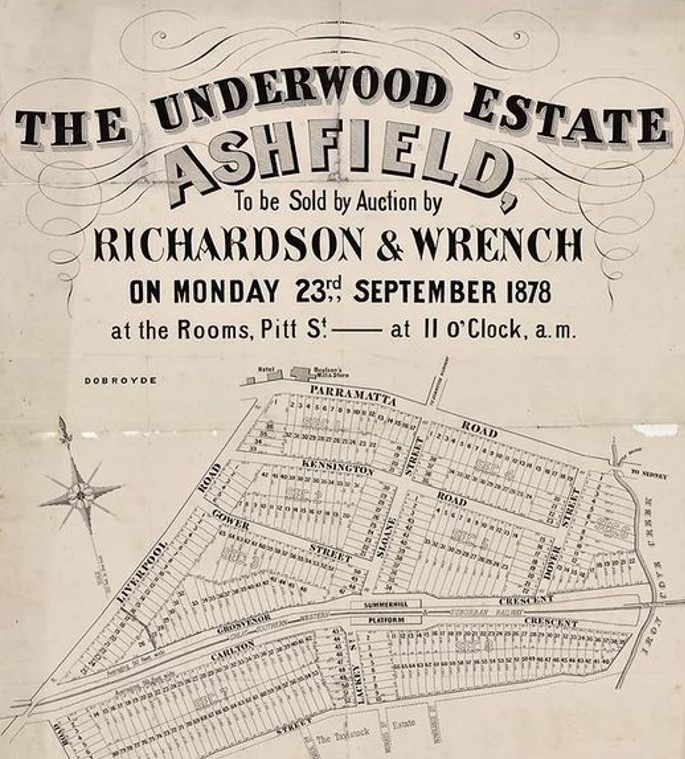 Architecturally, the Underwood estate is today characterized by a variety of dwelling design, ranging from Victorian Regency and Italianate (a manifestation of the housing boom of the 1880s) to twentieth century home units (confirming the attraction of the area to public transport commuters). We can see from the subdivision map (courtesy of the State Library of NSW) the enormous property sizes of many of the original blocks.
The key features of north Summer Hill are the pleasant enclave of Victorian houses with filigree detailing and the distinctive street tree foliage provided by the Brush Box trees. The character is recognized in the North Summer Hill Conservation Area, and its part of the character that makes Summer Hill such an attractive place.