The Society produces a number of publications each year. The publications are a result of the research undertaken by members of the Society. We take great pride in our publications and every effort is made to ensure their voracity and integrity. The income we recieve from sales of our publications is used to assist the Society with future publications.
Publications
Ashfield History: The Journal of the Society
Over time our journals have evolved. Earlier they were a collection of often eclectic articles written by members about their particular interests in the history of Ashfield and surrounding suburbs. In recent years they have evolved into journals that contain articles relevant to specific topics. The articles are written by our members who are 'dedicated' to ensuring that our history and heritage is preserved.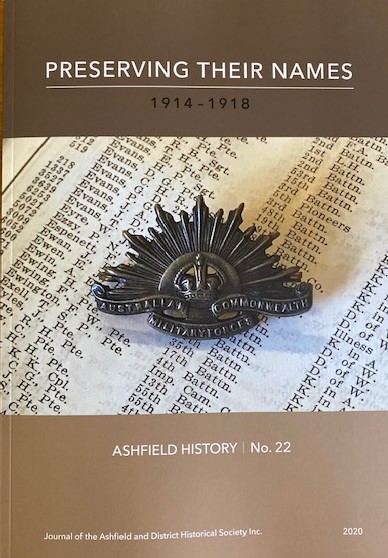 Ashfield History No. 22: Preserving Their Names 1914-1918.
$25.00 plus $15 postage
When our Society began working on what became Ashfield History No. 20, it was lamented that there was no central and all-inclusive WW1 honour board or memorial showing individual names. Society member and local resident, Kerry Ann O'Reilly then set to work locating all the remaining honour boards and making a data base of the names listed.
These names formed the backbone for member Peter Byron's work in adding details and additional names. A group of Society members then continued the research, gathering more names for an ever-growing list
The database is far from complete. If the now defunct Ashfield Council was correct in its assessment, there were around 3,500 men and women from the local district who enlisted in WW1. So we still have many more names to discover and add to the database. There may be Honour Boards that have not been included or perhaps some old company records which show lists of employees who enlisted – we will welcome any information on these.
This Journal is in two sections. The first part, largely written by Ann O'Connell, provides insights into the lives of individual men and women, and, in some instances, the whole family who served. These are fascinating.
The second part is the database itself. It lists each name alphabetically, their service number, date of enlistment, their address, the Honour Board on which their names can be located, date of death (where applicable) and location or date returned to Australia, along with some service details.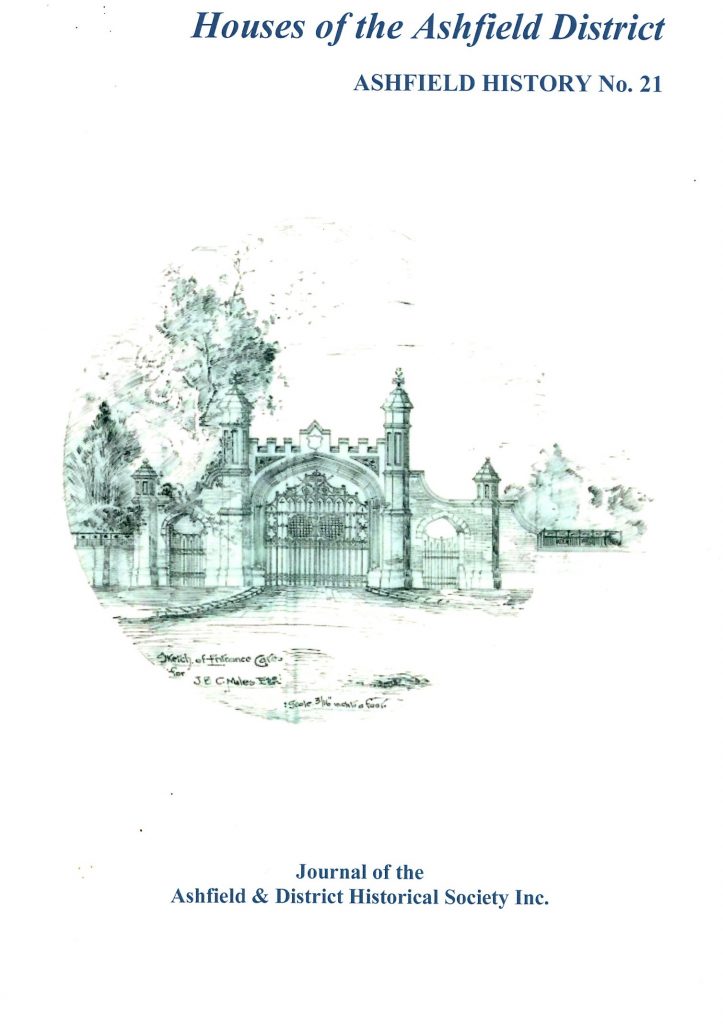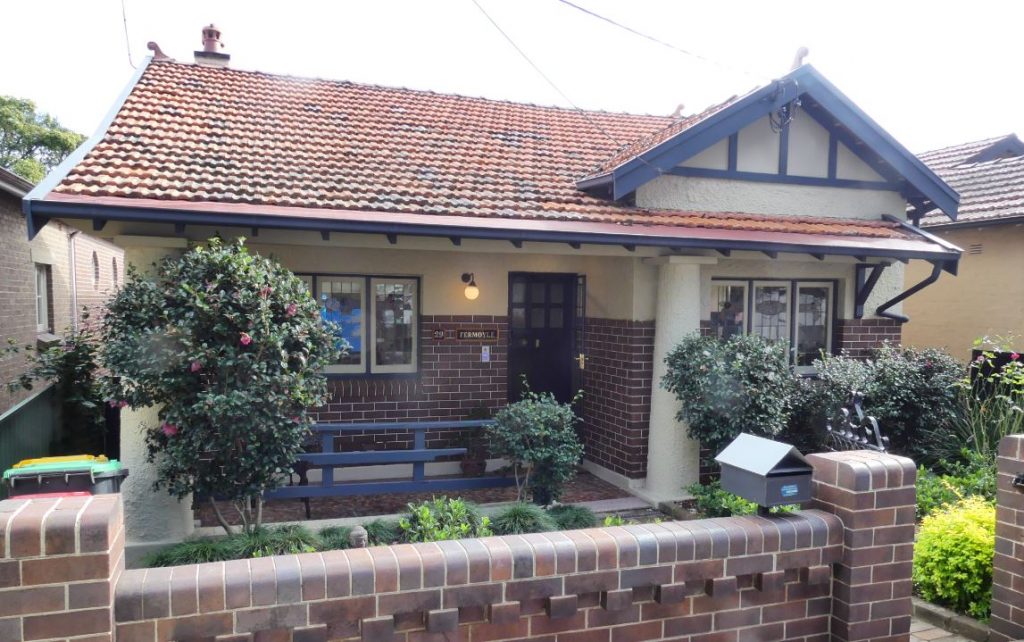 Ashfield History No. 21: Houses of the Ashfield District
$25.00 plus $15 postage
Authors: Ann O' Connell, Bernadette Williamson, Chris McQuellin, Chris Pratten, David Rollinson, Dennis McManus, Jennifer Winton & Stephanie Coleman Hull, Mandy Keevil, Mark Sabolch, Robert Irving
Ambleside, aka 'Ashfield Castle'
Elston Villa : A Work of Art
St. John's Parsonage
Kelvin Grove (Summer Hill Villa)
Rathgael
Abergeldie and the Dixson Family
Killowen
Portland House – A Georgian Revival house comes to Victoria Square
Building Activity in Ashfield during World War II
Cooringa
The Bush House, Ashfield Park
Higginbotham & Robinson 1883 Map of Ashfield
Fermoyle, A Home Story
Surbiton
Ercildoun – A Mansion Maligned
Taloumbi Revisited
The McCarthy Family at Maluna
An Unexpected Visitor
Nil Desperandum
Romsey
Captured in Time, Ellalong/ The Grange
---
---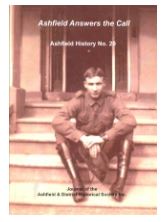 Ashfield History No. 20: Ashfield Answers the Call
Authors: Ann O'Connell, Celia Berry, Chris McQuellin, David Rollinson , Gail Wightman, Mandy Keevil, Margaret Tolmie, Mark Sabolch, Peter Byron, Ross Howard
$25.00 plus $15 postage
This publication has articles on the following:
Ashfield Supports the 'Win-the-War' Movement
The Call to Arms
William H.D. Sully: Lost but not Forgotten
Coo-ee!
Recruits Wanted
Mayor of Ashfield – Patriotic Leader
A Request from Dame Nellie Melba
The Belgian Relief Fund
Gunner Dunn's Luck
Alick James Bryant, the Youngest ANZAC
Thomas Leslie Cormick
Herbert John Chudleigh – 1st Field Ambulance
Australian Heroes back from the Dardanelles
Gordon Abbott – Mates at War
Colin Brodie Bull – Mates at War
One Brother Rests in England -Des McCarthy
Ashfield Boys – The Alderson Brothers
Haberfield Roll of Honour
Ashfield Park War Memorial
The Brackpools Celebrate Peace!
---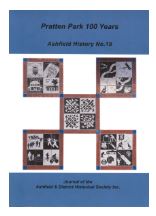 Ashfield History No. 19: Pratten Park 100 Years
Authors: Ann O'Connell, James Cockington
$25.00 plus $15 postage
This publication explores the history of Pratten Park with articles on:
The a'Beckett Family & Thirning Villa
The Formation of Pratten Park
Thirning Villa – The House in the Park
Cycling at Pratten Park
Eight Brothers – Hird
Donald Blackman -Ashfield's Amateur Cycling Champion
Grand Band and Police Tattoo
Western Suburbs Amateur Athletic Club
Eileen Wearne – Olympian
Pratten Park Grandstand
Goat Racing at Pratten Park
School Athletics on Pratten Park
Ashfield Autodrome – Motorcycle Speedway
Cars on the Park
The Park Wall
Pratten Park's Turnstile Houses
In Retrospect, Now and in the Future
---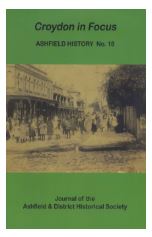 Ashfield History No. 18: Croydon in Focus
Authors: Ann O' Connell, Debby Cramer, Denis Gojak, Jennifer Horsfield, Julian Holland, Philip Keenan, Robert Mills
$25.00 plus $15 postage
This journal has a focus on Croydon with some other interesting articles on:
Creating Location: Histories of Croydon, 1874-1920
Croydon Under Ice – The Hailstorm of 1902
Arlington in Croydon
Delmar and the Knight of Dannebrog
Mowbray House. An Historical and Archaeological Investigation
The Edgeworth Davids and their Life at Ashfield
Henry Nixon, Stationmaster of Summer Hill
Australia's First Women's Bicycle Race at Ashfield
The Great Goulburn to Sydney Road Race. Winning Post: Ashfield
---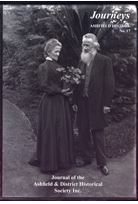 Ashfield History No. 17: Journeys
Authors: Ann O'Connell, Ken Kershaw, Kim Mikkelsen, Paul-Alan Johnson, Robert Irving and Noel Irving, Vicken Babkenian
$25:00 plus $15 postage
This jounal explores and documents some of the remarkable journeys people made to settle in Ashfield and district.
Edith May Glanville: Champion of the Armenian Relief Fund
The Planning, Properties and Patriarchy of Surveyor-General Augustus Alt
Herman Finckh – German Emigrant: Artisan Jeweller & Horticulturist
Killed in Action: On the trail of Elvard Jorgen Martin Andersen
Some Ashfield Town Centre Street Histories
Arthur Jeffreys and Family in Australia
---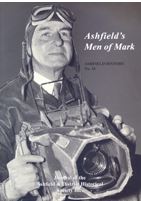 Ashfield History No. 16: Ashfield's Men of Mark
Authors: Ann O' Connell, Chris Neave, Donald Hunter Dougan, Graham Hunt, Ken Kershaw, Peter Maguire
$25.00 plus $15 postage
In this journal the lives and deeds of some of Ashfield's 'Men of Mark' are documented.
Milton Kent, Aerial & Commercial Photographer, 1888-1965
Henry Alfred James (1850-1936)
A Man and His Album (Leslie Puckle)
Memories of McKimm's
More Recollections of McKimm's
Max Wurcker – Sydney Trader
Anecdotes on Max Wurcker
Young Men of the Ashfield District Camera Club
---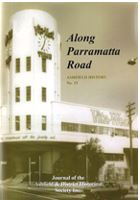 Along Parramatta Road
Ashfield History No. 15: Along Parramatta Road
Authors: Ann O' Connell, Felicity Barry, Ian Jack, Matti Keentok, Paul Ernest Moroney, Robert Irving, Vicki Eldridge, Vince Crow
$25.00 plus $15 postage
This journal documents some of the significant buildings and features along Parramatta Road.
Battle Bridge
Dales Garage, from Motorists' Refuge to Commemorative Site
Ella: A Legacy to a Community
James Montague Sandy J.P. Plate Glass Oil and Colour Man
A Public Park in Ashfield
St. David's Uniting Church, Haberfield
Ernest Moroney: Early Entrepreneur of Parramatta Road
The Dupain Institute of Physical Education
Peek Frean: The Building Designed in 1936 by Ross & Rowe, architects
Peek Frean: Biscuit Business
AWA in Ashfield
---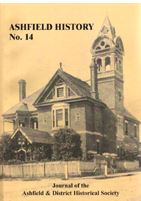 Ashfield History No. 14
Authors: Ann O' Connell, Chris Pratten, Geoff Grace, Ian Arthur, Margaret Hodgeman, Margaret Swift
$15.00 plus $12 postage
This journal has a number of articles related to a diversity of topics.
Norman Selfe, Engineer Extraordinary
Dr. Carter
Werners' Milk Bar
Mervyn Allum: Ashfield's shark attack victim
Glanworth, Chandos Street
Recollections of Ashfield School
Frederic King
Our Boys' & Girls' Own Newspaper
Ashfield Boys' College
Kellross, Dover Street
Dr Barnardo's in Ashfield
Early Days in Haberfield
H.C. Brierley
Northridge, Victoria Street
---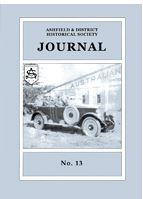 Ashfield & District Historical Society Journal No. 13
Authors: Ann O' Connell, Betty Nicholson, Cathy Moran, Chris Pratten, Christopher Rogers, Nora Peek, Norma Oong, Robyn Conroy, Lesley Muir
$10.00 plus $12 Postage
This journal has a number of articles related to a diversity of topics.
The Australian Six
Ashfield Vale House
The Ashfield Prison Gate Brigade Farm
Demolished Buildings of Ashfield
The mysterious death of a rustic chairmaker
James Cunningham, woodcarver
The Lawsons in Ashfield
Searl's Ashfield Rose Ground
Coniston
William Hallstrom: bootmaker
Family matters: The Rogers of Robert Street
David Shepherd
Paton Electrical Pty Ltd
Memories of Milton House
Henry Parkes and Milton House
'We had a lovely life': Ashfield in the late 1930s
The Milleewa Boys Home in the 1940s
---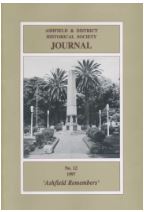 Ashfield & District Historical Society Journal No. 12: Ashfield Remembers
Authors: Chris Pratten, Lieut-Colonel W.A. Longfield, Nora Peek, Roy Helm
$10.00 plus $12 Postage
This journal has a number of articles that explore how residents of Ashfield engaged in wars including the Maori Wars and the First World War and the various monuments and memorials that have been erected in the district.
The Maori Wars: The Sudan Contingent: The Boxer Rebellion
John Paton, V.C
Colonel Holborow
Colonel Goodlet
The Ashfield Corps, 2nd Regiment Volunteer Infantry
Early Colonial Volunteering
The Boer War
Brigadier-General Ramaciotti
From Ashfield to Armentieres with Bertie
Penlee and the Ashfield VAD
The Ashfield and Haberfield Drill Halls
24 Squadron, Air Training Corps
St David's Church Honour Roll
Ashfield's War Trophies and Memorials
Ashfield Presbyterian Fellowship Association 1916 Christmas Honour Roll
---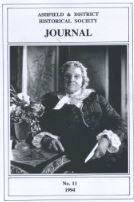 Ashfield & District Historical Society Journal No. 11
Authors: Ann O'Connell, Bob Irving, Chris Pratten, Doris Dickinson & Friends, Joan Francis, Lorranie Huddle, Nora Peek, Rosemary Annable
$10.00 plus $12 Postage
This journal has a number of articles related to a diversity of topics.
The History of the Dobroyde School 1862-76
-and one of its pupils Lucy Ann Owen
The Ramsay Family Vault
Biographical Register No. 11 including:-

Daphne Cozen (nee Akhurst), 1903-1933;

Evelyn Margaret Tildesley, 1882-1976;

Rose Payten, 1879-1951;

Louise Taplin, 1859-1901;

Carolyn Edgeworth David (nee Mallett), 1856-1951.

A Short History of Haberfield
Dickinson's Hardware, Haberfield
Book Review–Twinings, a story of St Vincent's Parish, Ashfield 1894-1994
Some memories of Summer Hill Opportunity Class
Ellen Kennedy–a resourceful lady
Sunning Hill
Yeo Park and its bandstand
Geelong's Hitchcock Memorial Bandstand
---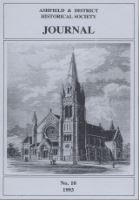 Ashfield & District Historical Society Journal No. 10
Authors: Chris Pratten, Ena Harper, Robert Irving, John Ward, Nora Peek, Richard Mackay
$10.00 plus $12 Postage
This journal has a number of articles that investigate the early history of Ashfield and district together with the first 20 years of the Society.
The Society's First Twenty Years (1973-1993)
Biographical Register No. 10 including:

Joseph Henry Maiden, 1859-1925;
Sir Joseph Cook, 1860-1947
Edwin Johnson, 1835-1894

A Parable of a Sower-Ashfield's First Land Grant
Potter's Paddock, Part 2
The Old Bowling Green
The Taloumbi Mystery
The Ashfield Presbyterian Church: Its History and Architecture
The Lewisham Whipple Truss Bridge
Smike at Summer Hill
Somerville's-Ashfield's Oldest Real Estate Office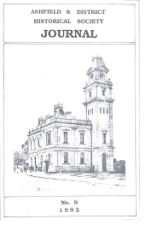 Ashfield & District Historical Society Journal No. 9
Authors: Robert Irving, Lesley Muir, Chris Pratten, Nora Peek, Gwen Gardiner,
The Architecture of Ashfield
The Letters of Henry Boehme
The Sydney Permanent Freehold Land and Building Society
Biographical Register No. 9 including:

Alexander Leckie Elphinstone Senior, 1828-1895;
David Elphinstone, 1846-1916;
Alexander Leckie Elphinstone Junior, 1854-1945
John Plant Wright, 1842-1912;
Edward Robert Hinder, 1829-1894;
Sophia Hinder (nee Ford), 1831-1907;
Henry Vincent Critchley Hinder, 1865-1913;
William George Hilliard, 1887-1960;
Richard Theophilus Jones, 1839-1914.

Potter's Paddock
Dobroyd Point's Eldorado
The Mayor of Ashfield: A Herbert Edward Pratten Monograph
---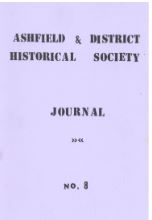 Ashfield & District Historical Society Journal No. 8
Authors: Chris Pratten, Ena Harper, Gwen Gardiner, Nora Peek
This journal has some great articles about public houses in the early years of Ashfield that contrast nicely with others about schools and churches.
Public Houses & Publicans in the Ashfield Area 1820-1920 (Part 1)
Some Neighbouring Public Houses
The Ashfield Cordial Works
Dobroyd Point Public School
The Establishment of a Presbyterian Ladies' College at Ashfield
Biographical Register of Landowners and Residents in the Ashfield District No. 8
---
Other Journals
Nos 1,2,3,4,5,6,7 —- Please email the Society for the contents of each and to see if we still have any left in print.
---