Annual General Meeting of the Society
February 2023
Presidents Report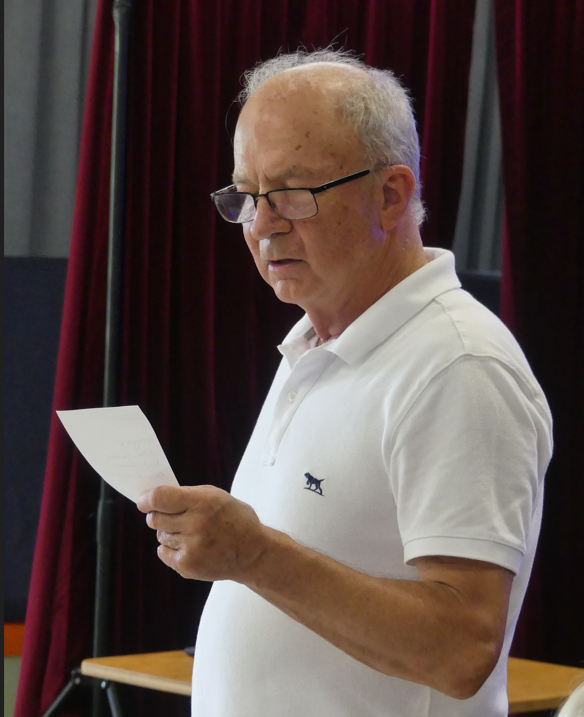 Alex Lofts stated that 2021 had been a successful year and the Society came out stronger than ever. 2022 was our 50th Anniversary year and a function commemorating this will be held later in the year at Wests Leagues Club. The Society is financially sound; held well-attended and interesting events throughout the year; consistently held a book stall during 2022 at the Summer Hill Mill Market; improved our website and distributed an impressive newsletter to members. Alex named and thanked the members of the Society Committee for their work. While there was a lull in the production of publications during the two years of Covid, the Society distributed a calendar to members each year – the first including historic photographs from our collections and the second showed images of places within our district depicting change and adaptive re-use. Today, our first publication for 2023, prepared by Chris Pratten and Ann O'Connell, is ready for distribution. Two others are in the process and grants from Inner West Council and the RAHS have been awarded for these. These publications will be a journal on Houses of the Ashfield District Part II and a book on John Jasper Stone, who made an architectural contribution to the local area. Alex then talked about the various events and special occasions organised throughout the year and these were outlined in his written report. In conclusion he thanked those present for their attendance and stated that he thought the society will continue for another fifty years.
Treasurer's Report
Membership subscriptions had increased, the 2022 income from the Summer Hill Mill book stall had doubled since 2021 and two grants had been received. She also explained the low expenditure for 2022 being a result of no publications being printed during the year, however, our commitments for 2023 were already $13,873 being $4,088 for the Frederick Clissold book, $3,289 for a reprint of the Summer Hill book and the outlay of the grant monies receipted against the book and journal to be produced later in the year. Other outlay will be incurred in the running of our events and in anticipated IT expenses. Two $5,000 term deposits have been placed to obtain additional interest. Carolyn stated that in 2022 we had 153 financial members.
Committee for 2023
Position
Person
President
Vice President
Treasurer
Membership Secretary
Public Officer
Heritage Officer
Activities Coordinator
Activities Coordinator
Rooms & Collection Officer
Minutes Secretary (Note 1)
Newsletter Editor
Research Officer
IT Coordinator
Web Manager
General Committee Member
General Committee Member
General Committee Member
General Committee Member
General Committee Member
Honorary Architectural Historian
Alex Lofts
Lois Gray
Carolyn Carter
Carolyn Carter
David Rollinson
David Rollinson
Jan Williams
Paul Williams
Clare Herscovitch
Bernadette Williamson
Heather Warton
Ann O'Connell
Phil Burne
Colin Webb
Mark Sabolch
Murray Cleaver
Ronda Gaffey
Nerida Thiering
Lucille McKenna
Bob Irving (absent from mtg)
Guest Speaker: Alan Croker
Alan Croker is a director and the principle of Design 5 Architectural firm of Sydney, that specialises in the conservation, adaptive re-use and heritage assessments of old buildings.
Alan spoke passionately about the need to include the way we regard architecture into our thinking about sustainability. He cited the 2021 Pritzker Prize winners Anne Lacation and Jean-Phillippe Vasssal's transformation of a 1960s block of 96 social housing units into a light-filled and uplifting place to live. He used this example to promote the alternative that many architects hold today – to demolish and replace buildings as an easy and short-term solution – rather than to adapt, repair and restore them. Demolition is a waste of materials which our future cannot afford whereas keeping our old buildings and their history can be achieved by careful thinking which will add another layer to their history, is more sustainable and strengthens our cultural environment.
Alan then spoke about his work on the Sydney Opera House and linked the building's 50-year history to our Society's anniversary. The Opera House was built before current access standards were in place, and as a very busy public domain, it needed to be upgraded to include provisions for persons with mobility and other issues. There was also a great need to improve the acoustics of the concert hall. Alan and his team's approach was to make the changes without destroying the character of the building. He described how the access was brought up to standard by creating a side foyer and cutting a passage through the stairs which curved its way to the northern foyer and a glass lift was built to Level 3, a space where visitors can look across the Harbour. These changes caused minimal interruption to design lines of the building.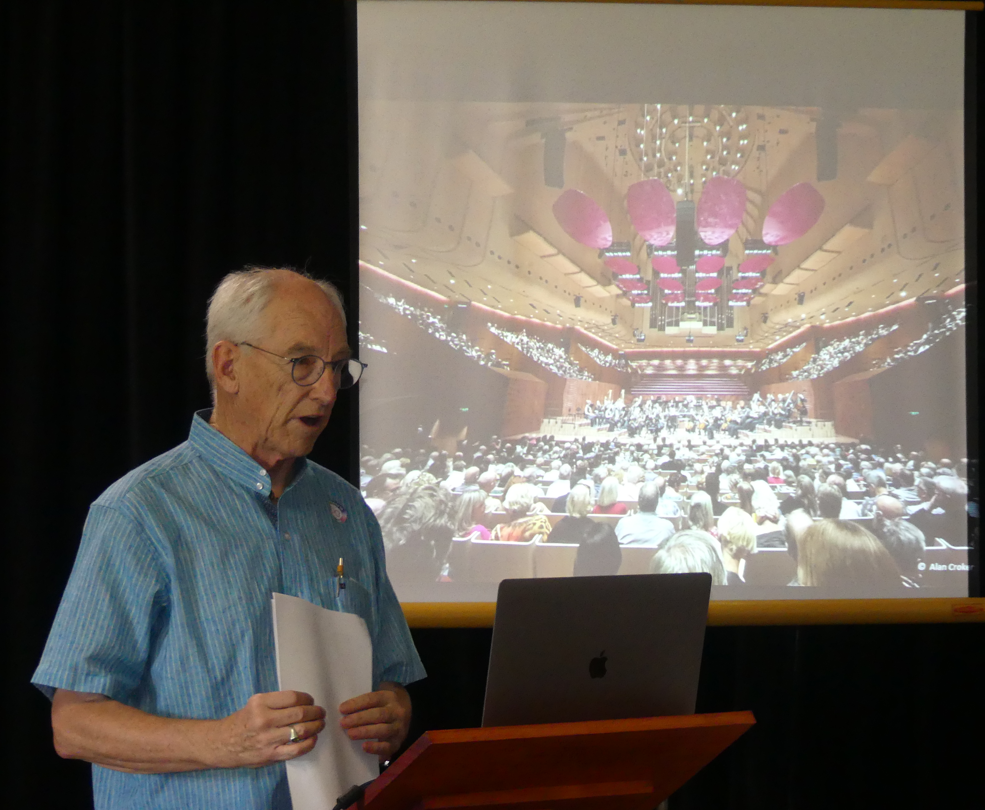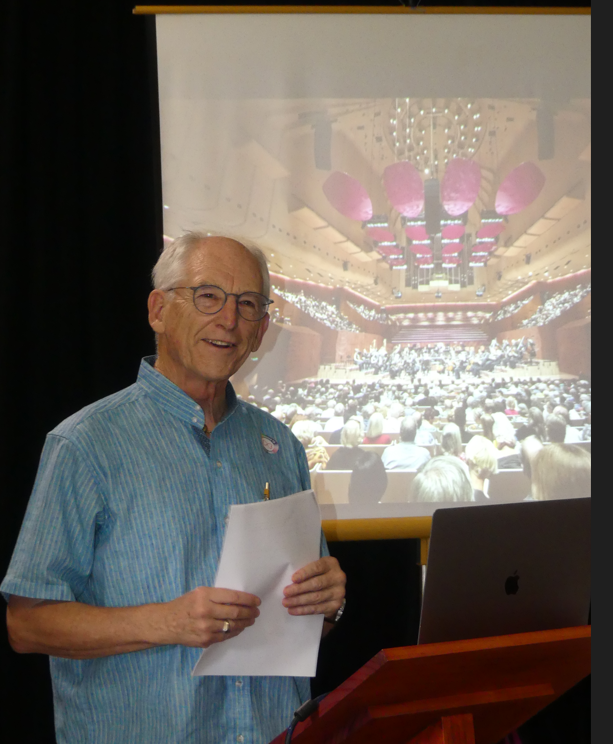 Book Launch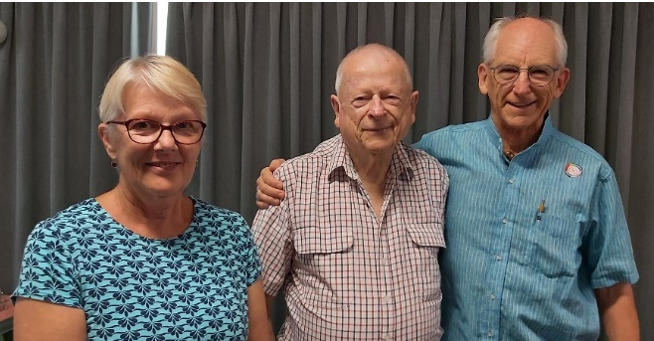 Alex Lofts then requested Alan to launch to book, Frederick Clissold of Glentworth Ashfield which he did, congratulating the authors Chris Pratten and Ann O'Connell on their work, commenting that documents such as this one is an asset when architects are preparing Conservation Management Plans for historic buildings as they provide the researched history of the place as a base for understanding their heritage.